September school holidays are traditionally a busy time at Sarina Sugar Shed, and with many people wanting to get out and about, or take their visiting friends and relatives to local attractions, we expect these September school holidays to be just as busy!
All year round, Sarina Sugar Shed caters for families, with a range of kids' activities to keep the young ones entertained (from pre-school to high-school age) such as Minecraft games, special stickers and colouring activities. And of course, the fairy floss offered on every tour is a real hit!
These September school holidays, we are offering a special tour aimed squarely at kids. This fun interactive 45-minute session is offered at 10.30am every day of the school holidays including weekends, and is a great way to get the young ones involved in the sugar cane process.
The Critter Hunt is sure to be a hit as the kids search for creatures that inhabit sugar cane plantations (note: we use toys!), and if they have never tasted sugar cane juice freshly squeezed from the mill, then this is the perfect opportunity, direct from our miniature mill, Bill the Mill Junior.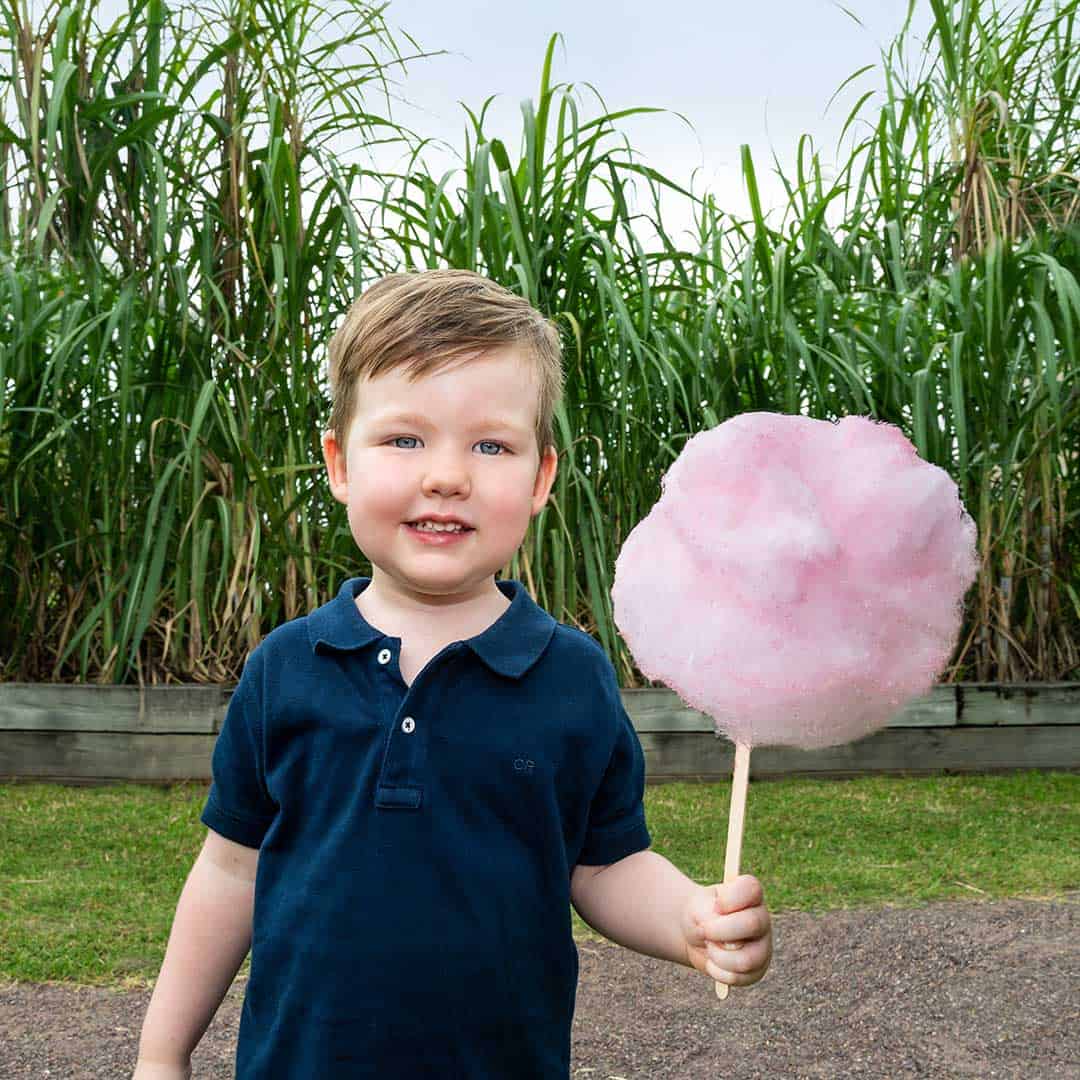 All kids will receive a sticker when they pass through the tour entry gate, and this is their name for the tour – they may even get to meet the piece of sugar cane equipment they are named after!
The kids tour finishes with fairy floss of course, plus they'll receive an information sheet which is ideal for school projects…and they can even complete a quick fun quiz to see what they learned!
But don't think we have forgotten the adults! Accompanying parents on these special kids' tours pay the same price as their kids. And after the tour, you can relax in our covered outdoor café for a coffee, scones (with all trimmings) or a cheese or tasting platter! Liqueur paddles featuring our 5 favourite liqueurs are also available (as our alcoholic products are not served on the kids' tour).
In addition to these holiday kids' tours, we run one-hour tours four times daily (except Christmas Day, Boxing Day and Good Friday) at 9.30am, 11.00am, 12.30pm and 2.00pm, and we often add extra tours during peak times, such as school holidays, to meet demand.
We strongly recommend tours are booked in advance to ensure that you can go on your chosen day and time – there are limits on tour sizes, so we don't want you to be disappointed. Visit the Tours page on our website http://www.sarinasugarshed.com.au/tours to book, or call (07) 4943 2801 during our opening hours of 9am – 4pm.
Adult tours are $26.50 per person. Children (5 – 17 inclusive) are $13.30, with children under 5 free of charge. Family tickets (2 adults and 2 children) are $69.20, with extra children at the discounted rate of $8.20. Concession card holders (seniors or pension card) pay $22.50.
Sarina Sugar Shed is located in the Field of Dreams Parklands precinct at the southern end of Sarina, just 38 kilometres from Mackay.